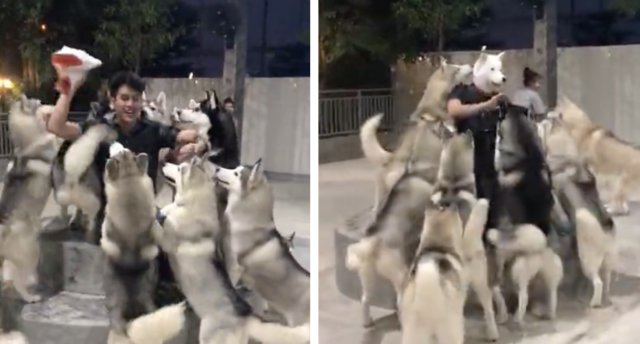 Siberian Huskies are known to be stubborn and sassy, often talking back to people and getting in the last word. However, they're also incredibly loyal. And they have a silly side to them as well, which was best portrayed by a husky owner who decided to dress up like a member of his pack.
One dog owner in Sakon Nakhon, Thailand decided to play a prank on his pups. He entered the room wearing a very realistic-looking mask. He blended right in with the crowd. And his dogs were naturally confused. On one hand, it looked as though they were getting a brand new member of the group. But then on further inspection, they realized that it was their owner in disguise.
This then prompted even more chaos as each dog continued to vie for their master's attention. Each stubborn pooch was quite demanding of kisses and cuddles, quite happy to have their owner join them incognito.
Watch the video below: Huskies Go Crazy When Their Owner Puts On A Dog Mask