Like most Huskies, Meeka the Husky has a very stubborn streak when things don't go her way. In this story, Meeka gets very offended when she sees her dad having an ice-cream without her. She demands Dad to share his ice-cream with her, but Dad straight up refuses to let her have a taste. What follows is Meeka's adorably dramatic temper tantrum!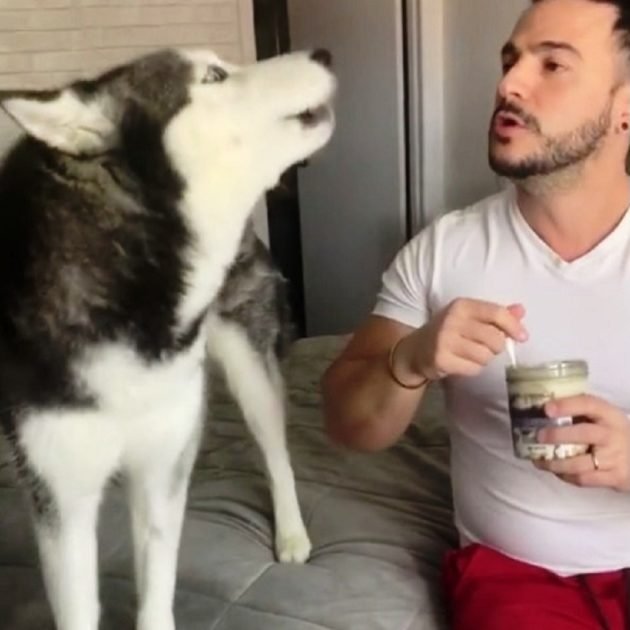 When Dad realizes that Meeka is upset, he tries to reason with her. He says that human ice-cream is unhealthy for her, and also promises to buy her a "doggie ice cream" later. But the furious dog thinks they are just excuses! She doesn't understand why Dad would "shamelessly" have an ice cream in front of her when he doesn't intend to share!
Later, Mom jumps in to diffuse the tension between Dad and Meeka, but it hardly makes any difference. After her arguing fails, the defeated dog resorts to whining and sulking on the bed to express her disappointment! Poor girl!
Mom and Dad say Meeka used to be very docile and submissive as a puppy. But by the time she turned 3, they noticed a 180 degrees change in her personality! Meeka was suddenly very aware of her surroundings, and she developed into a headstrong and opinionated girl! As for her parents, they love Meeka more than ever!
Click the video below to watch Meeka's hissy fit when she sees Dad devouring the ice-cream all by himself!
Please 'SHARE' to pass on this story to a friend or family member!